Reverse Trash Streams: The Junk Mail Project
Los Angeles and Chicago
Curated and Organized by Nancy Spiller and Barbara Hashimoto
Project Summary
The Junk Mail Project began on January 1, 2006 with the collection for one calendar year of the junk mail delivered daily to my Southern California home. On December 31, 2006, I had 157 pounds of this unsolicited material which I then hauled to a commercial shredding company to shred, bag and drive back home. Seven-45 gallon black garbage bags full of this material lurked in the corner of my garage as I began developing an installation to utilize this year's worth of waste.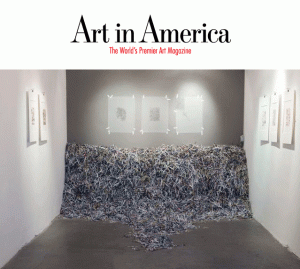 In Spring 2007, I joined forces with Chicago-based artist Barbara Hashimoto.
The Junk Mail Project's Los Angeles installation involved piling my 157 pounds of shredded junk mail against the back wall of the gallery space to resemble a tsunami wave of waste. Hanging on the surrounding walls were my Shredded painting and drawing series inspired by abstractions found within the shredded mass. These relatively small,intense passages were done in oil, gouache or ink on larger sheets of Mylar, a frosted plastic material that resembles vellum and reference medieval illuminated manuscripts. Also on display were woven works by Hashimoto done from shredded glossy retail catalogs. The exhibit was installed November 9 through November 24, 2007 at L.A. Contemporary Gallery, 2634 South La Cienega Blvd., in Culver City, CA.