The Fear Factor: Entertaining Outdoors In L.A.
July 10, 2017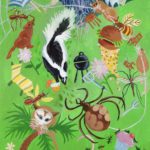 Hey, I'm busy, I just ran a 5K and marched in a Fourth of July Parade, with my dog, and my husband, and now I've got a class to teach at UCLA Extension July 11-September 12, it's on Writing the Personal Essay. So I haven't had time to write some swell new summer piece, but here's a riff on the joys, and horrors, of outdoor entertaining in L.A. It first appeared in Arroyo Magazine a few summers back and I'm sure it still rings true for far too many of you–so get out the bug spray and the Have-A-Heart trap and enjoy! 
Summer is when Southern California homeowners prepare for a season's worth of outdoor entertaining. To-do lists include mowing the lawn, dead-heading flowers, trimming trees, cleaning and freshening cushions, repairing or replacing furnishings, checking the gas on the barbecue and replenishing the charcoal and lighter supply.
During the two decades we lived in our Glendale home that shared the top of a hill with Forest Lawn, our list also often included calling the skunk trapper, the ratter, the bee man, the termite inspectors (we retained two separate companies — one for subterranean and one for dry wood) and, for those unusual smells in the basement or beneath the floorboards, putting in a call to that nice young man who collected dead animals from underneath the house (but was really an actor). Then we'd be sure to refill the bottles of ant spray (indoors and out, upstairs and down), replace the citronella candles and remove the winter's accumulation of animal fur from the comfy Sunbrella seat cushions and then spray them for fleas left by the opossums and feral cats who enjoyed napping on them.
We'd fallen in love with our ancient house for its killer views. We saw its proximity to Forest Lawn as a bonus, affording us quiet neighbors who also happened to be dead. The cemetery's open space and our living neighbors' mostly untamed yards also meant our neighborhood was a high-density habitat for the region's native population of wild animals.
As a result, our efforts at outdoor entertaining were always filled with special delights. Would the skunks come out to join us, as they did the Fourth of July we tried to catch the Rose Bowl fireworks from the top of the yard, or would they spray the dog again if she barked at their shuffling through the shrubbery? Would bees be dripping from the deodar cedar branches to greet our guests as they ascended our front stairs? Would the mid-evening rustling in the backyard palm be an opossum or rats? How many citronella candles would it take to keep the mosquitoes at bay without making our guests feel like they were sitting next to a controlled burn? Would those spiders the size of quarters rappel off the beams of the pergola during our twilight cocktail party? If the spiders did arrive, would anyone — as well they should — scream and run off?
These were our guessing games before, during and after bouts of entertaining in our enchanted backyard garden.
Of course, there was no guessing when it came to the sound of coyotes howling (every Southern Californian is familiar with that). But when the sounds from the sizable colony that resided at Forest Lawn turned to banshee cries and a high-pitched yipping frenzy, we got to guess whether they were just enjoying a fun coyote game or tearing a neighborhood pet to shreds — or both? I preferred to attach Jack London connotations to the sounds that visitors and neighbors thought reminiscent of horror films. (Spending dark nights adjacent to Forest Lawn, horror films are not high on my list of leisure activities, so that's not a reference point for me.) The bees were the visitors I personally found most unnerving. Early invasions included their crawling through the walls of our house and emerging from light switches, or coming down the chimney into the living room to die, always accompanied by the unrelenting low drone of drones that would drive me up the wall. Driven out of our inner sanctum, they took to colonizing parts of the garden. The last straws included their invasion of the black plastic compost bin I'd been dutifully dumping years' worth of kitchen scraps into. And as soon as I had mustered enough energy, after I'd beaten back all the pests threatening my house and garden, I was going to haul the rich black mulch I'd lovingly produced up all those flights of stairs to the little backyard patch, waiting for me to grow the baby organic lettuces I would hand-pick to serve Alice Waters — if she ever dropped by.
"I can get rid of the bees," the bee man said with a hint of delight, "but your compost won't be organic anymore."
Visions of a horrified Alice loomed. I refused to let him use chemicals. I knocked the lid off and let the bees wander away naturally. Or at least that's the story I planned to tell Alice — when she got there.
These countless, chronic outdoor concerns might have led other, wiser hosts to keep their guests inside. But our pests were full service, and we had a second squadron working indoors. Like the ants who regularly surprised us with new invasions of the bathrooms and kitchen en route to water sources in the dry months or dry ground in the wet months.
And then there were the termites I found swarming on the kitchen floor right after I'd escorted a group of women friends into the dining area for a Saturday luncheon. The termites had come up from the exposed earth basement, through the cracks of the ancient floorboards, as if by invitation. As I calmly swept them out the kitchen door, I reminded myself to invite the termite inspector for a return visit.
The one time we did do a full-blown linen, china-and-silver-against-the- wilderness blowout in our backyard Eden, I was put off not by the critters, but by all the other work involved. I was cranky and exhausted, and my legs ached from the countless trips from our kitchen to the backyard by way of all those stairs. After all the work I'd put into cultivating the garden and clearing the place of pests, I felt the guests should have done the cooking. Once I recovered from my nasty case of hostess remorse, I had to ask another question: Which should give ground — my social life or my precious perch atop the hill where the skunks, coyotes, opossums, rats, ants, mosquitoes and spiders did roam?
That was in part what led me to write my first novel, a project that required divorcing myself from that house's demands to carve out the time to finish it. We now live near a wilderness area on Los Angeles' wild western edge. It's easier to entertain here, but it's far from critter-free. We've got rattlesnakes touring the ivy and lounging at the pool, ticks on the dog, deer jumping out of the flower beds to frighten departing guests and more coyotes than a couple of Forest Lawns.
And no, we wouldn't dream of staying indoors. After all, being outdoors is our birthright. We live in Southern California.